Real solutions for global
game development
Our powerful CMS streamlines localization processes
Real solutions for global game development
Our powerful content management system manages all your global assets including text, audio and art, throughout the multilingual game development process
The beating heart of the production pipeline
We make your complex processes simple by providing a global pipeline for all your text, audio, and image production, ensuring a seamless content management experience.
Enable your teams to collaborate and visualise the status of multilingual assets at any time. With XLOC you can make your localization cycle flow seamlessly and always under control.
Save time and money and access your source and localized project data anywhere, anytime with our state of the art web-based Content Management System.
Whether you are releasing mobile content, AAA console games, or producing continuous MMO PC content, XLOC will make managing your content easy.
With XLOC at the heart of your localization process you can ensure you reach all your milestones in time. Realize the full potential of the global marketplace and capture more revenue by delivering your vision exactly when and how you planned.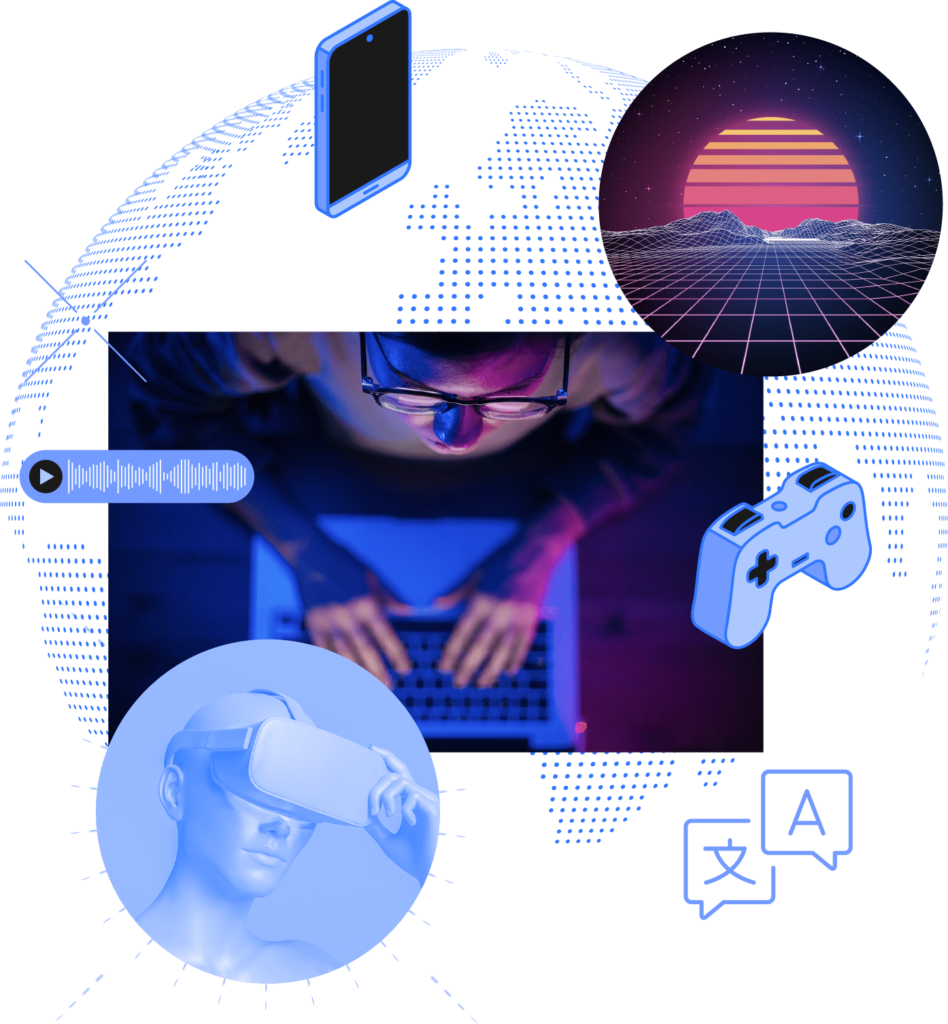 A SEAMLESS LOCALIZATION CYCLE
Developed by the gaming industry for global video games management, XLOC serves as a single source of truth for your game, easing collaboration between departments
"XLOC has been a core part of our efforts to efficiently manage the text in our titles and standardize our workflows. The support team at XLOC has also been extremely helpful. Whenever we have suggestions for additional features for the tool that would make it an even better fit for our titles, they always do their best to incorporate those into future updates."
BANDAI NAMCO LOCALIZATION TEAM
"While XLOC understands that most organizations are willing to let locs be the lowest item on the totem pole, they don't treat localizations with any less professionalism. In the process, they educate the publisher and developer to give locs the respect they deserve. They are crusaders for localizations."
ACTIVISION PRODUCER
"XLOC's solution was an essential part of releasing our game. An international, multi-SKU title release in seven languages and six platforms is an overwhelming task. With XLOC's localization expertise, our time to market was significantly reduced and we were able to create a much smoother and more standardized development process."
CAPCOM PRODUCER
"XLOC is hands down the best tool we use for localization. Our processes are created around this tool. XLOC provides organization for all the numerous translation projects we have in a given week. The XLOC team is amazing at customizing the tool to fit our needs. Having a very small localization team, I couldn't do all the projects we do without XLOC."
GLU MOBILE OUTSIDE SERVICES DIRECTOR
XLOC CONNECTS SEAMLESSLY WITH
Insights and news from around the games industry
News and Insights brought to you by Keywords Studios.
XLOC is part of Keywords Studios.
Find out how XLOC's CMS can help solve your localization challenges
Share your details in the form below and we'll be in touch shortly to schedule a demo of XLOC's capabilities